Wake Resiste is a network of individuals, community based groups, and organizations working together to support individuals and families affected by ICE enforcement action in Wake County. We believe that the only safe community is an organized one. We are preparing to provide impacted communities with community organizing, humanitarian, communications, and direct cash assistance in the immediate aftermath of a raid.
Wake Resiste is a self-organized group formed to work on rapid response and self-protection in case of immigration raids. The families we work with are families directly persecuted and affected by hatred, persecution and repression on the part of ICE. They generally do not qualify for other financial aid. Many of the families persecuted by ICE are mixed families and we increasingly see how this affects and separates our families.
The main objective of our rapid response network and fund is to provide immediate assistance in the event of immigration raids or to support immigrant families who are facing adverse difficulties due to the fact that a relative is in the process of deportation.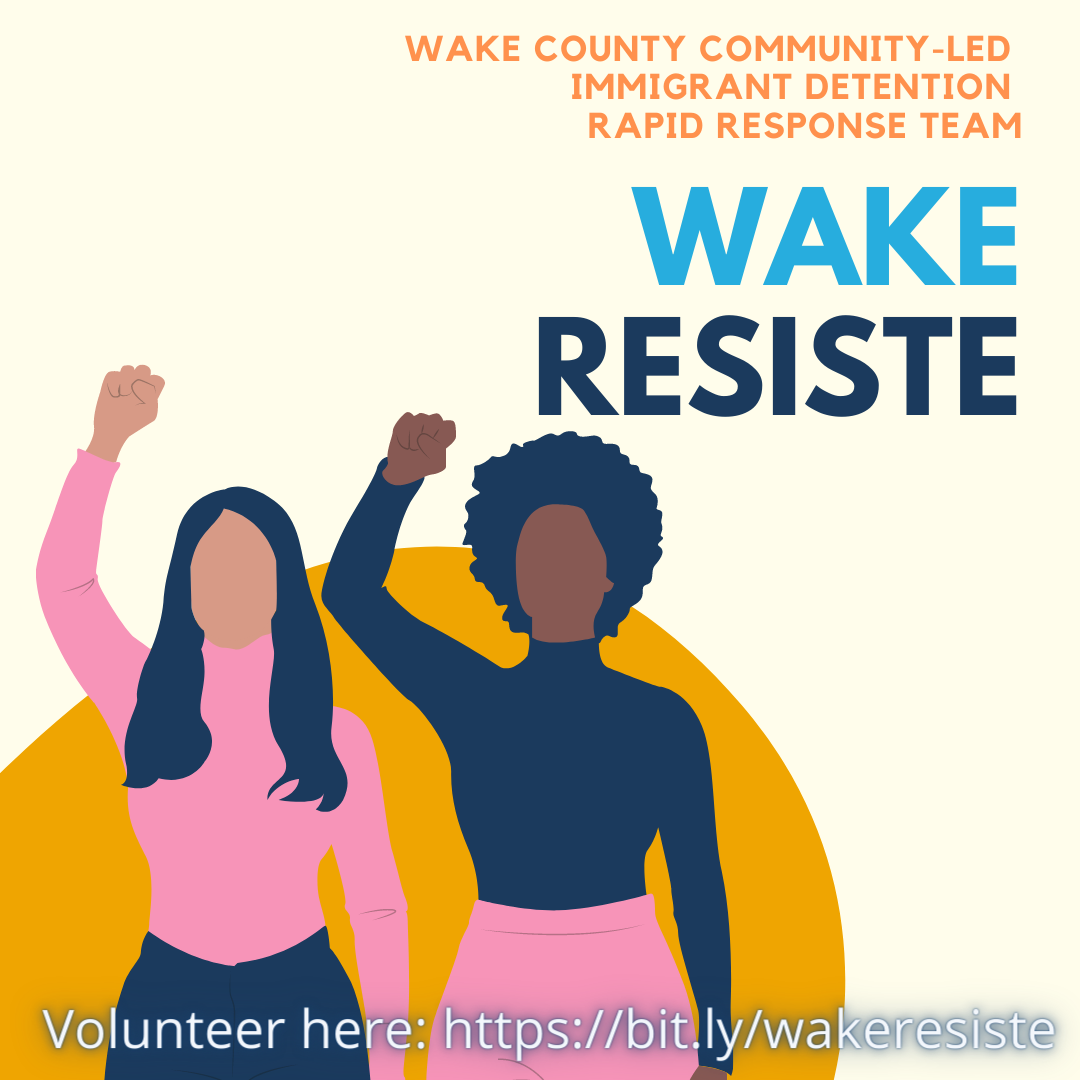 Wake Resiste es una red de individuos, grupos comunitarios de base y de organizaciones trabajando juntos para apoyar a las personas y familias afectadas por la acción de ejecución de la migra (ICE) en el condado de Wake. Creemos que la única comunidad segura es una organizada. Nos estamos preparando para trabajar con las comunidades afectadas en organización comunitaria, para  proporcionar asistencia humanitaria, comunicaciones y asistencia directa, en efectivo, inmediatamente después de una redada.
Wake Resiste es un grupo comunitario auto-organizado formado con el propósito de trabajar en respuesta rápida y auto-protección en caso de redadas de la migra. Las familias con las que trabajamos son familias directamente perseguidas y afectadas por el odio, la persecución y la represión por parte de la migra (ICE). Dichas familias por lo general, no califican para otras ayudas financieras. Muchas de estas familias que son perseguidas por la migra son familias mixtas y cada vez más vemos cómo esto afecta y separa a nuestras familias.
El objetivo principal de nuestra red y del fondo de respuesta rápida es de brindar asistencia inmediata en caso de redadas migratorias o de apoyar a las familias inmigrantes que enfrenten dificultades adversas debido al hecho de que un familiar está en proceso de deportación.